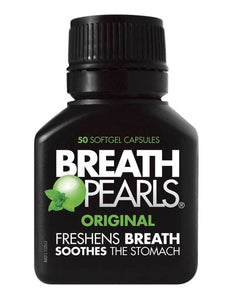 The breath freshener you swallow to create long lasting fresh breath from the inside out! Breath Pearls work within your digestive system to soothe the stomach and freshen breath naturally.
Contains:
Peppermint oil - Traditionally used for gastrointestinal discomfort. 
Parsley seed oil - Traditionally used to freshen breath.
No artificial flavours, preservatives, sugar or alcohol.
Ingredients
Peppermint Oil. Parsley Seed Oil.